Kids Parties
Standout from the crowd with a Pirate Ship experience for your next birthday party
Captain Jack Party
Hire the boat only and bring everything else yourself. This gives you the most control but also puts the most amount of work onto you, you'll be responsible for organising everything but we'll be happy to point you in the right direction with contacts in the party industry and food suppliers.
Inclusions
We'll supply a skipper and crew, their primary role is to look after the vessel and the safety of the passengers but we're always happy to help you get setup and lift aboard any items before we set sail.
How Many Gold Coins?
$400 for a 45 minute Cruise
The boat can accommodate up to 50 passengers. However we would recommend keeping children to a maximum of 30 passengers, this will allow some parents to come aboard.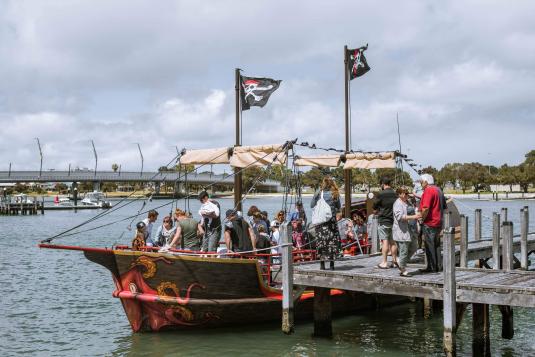 Captain Blackbeard Party
Our complete packages are designed to be a one-stop-shop for children's birthday parties. We'll organise everything from the food through to the entertainment and all you have to do is show up!
Inclusions
Our Captain Blackbeard birthday party includes 45 minute cruise for up to 40 guests, two kids party games, food for the guests which can either be platters or a bento style lunch pack, temporary tattoos and a pirate flag for each child to take home.
How Many Gold Coins?
$400 for the boat hire plus $15 per head. Minimum 10 children.