Kids Parties
Standout from the crowd with a Pirate Ship experience for your next birthday party with prices starting at just $10 per child.
Captain Jack Party
Join in on a Pirate Cruise for your child's next birthday party with children's prices at just $10 invite your little pirate and his or her friends and come aboard for an adventure. We will dress them up in hats and give them swords to play with, they may even come in full pirate attire. Listen to silly jokes from our pirate and learn the pirate code and have a bit of fun.
You may bring food and drink on board or have a picnic at the foreshore afterwards.
How Many Gold Coins?
Kids $10 
Under 3 Free
Adults $22.50
Please allow 1 adult for every 5 children invited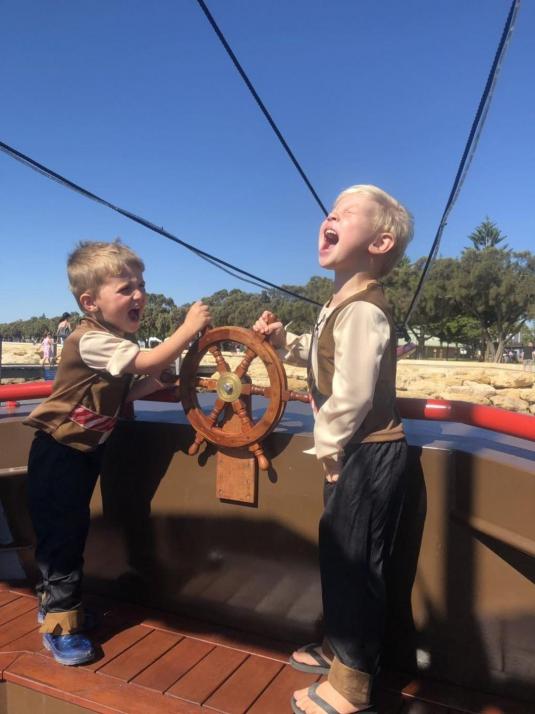 Captain Blackbeard Party
Hire the boat for an exclusive cruise and bring everything else yourself. This gives you the most control bringing your own food and drink, our crew will be happy to help set things up aboard and to keep the kids entertained for an enjoyable party.
Inclusions
We'll supply a captain and pirate crew, their primary role is to look after the vessel and entertain our pirate passengers but we're always happy to help you get setup and lift aboard any items before we set sail.
How Many Gold Coins?
$400 for a 45 minute Cruise
The boat can accommodate up to 50 passengers. However we would recommend keeping children to a maximum of 30 passengers, this will allow some parents to come aboard.
If you are wanting to arrive and have everything covered we have catering option starting at $10 per child.
We also have pirate flags to purchase for $3 if you would like to add something extra for the kids.